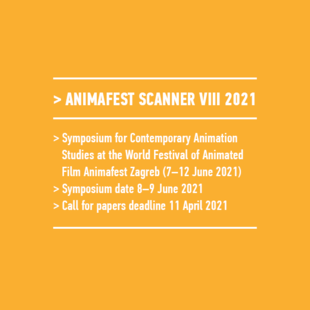 Das World Festival of Animated Films – Animafest Zagreb und ASIFA Austria suchen Beiträge für das internationale Symposium ANIMAFEST SCANNER VIII vom 8. bis 9. Juni 2021 in Zagreb. Diesjähriger Keynote-Speaker ist Xavier Kawa-Topor. Die Themen des Symposiums sind:
Anima

tion and the living: how anima

ted

films can invite us to rethink our

rela

tionship with biodiversity

Script-writing in animation

depicting emotions

Anima

tion in public spa

ces
ANIMAFEST SCANNER VII wird von der AG Animation unterstützt.
Alle Vortragenden erhalten einen kostenlosen Festivalpass für das World Festival of Animated Film – Animafest Zagreb.
Weitere Informationen unter: Animafest Website

Deadline der Einreichungen ist der 11. April 2021.