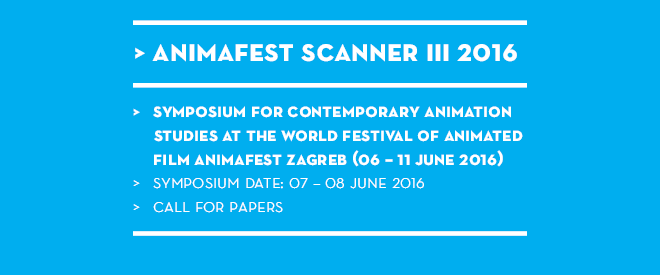 Call for Papers für die dritte Ausgabe des animationstheoretischen Symposiums ANIMAFEST SCANNER III 2016.
Die Veranstaltung findet am 7. und 8. Juni 2016 im Rahmen des World Festival of Animated Film ANIMAFEST ZAGREB statt. Ziel ist es Synergien zwischen animationswissenschaftlichen und praktischen Diskursen zu erzielen.
Wir freuen uns auf zahlreiche Einreichungen zu den Themen ANIMATION IN THE RAW, ANIMATION AWARDS, ANIMATION UND GAMES und ZAGREB SCHOOL OF ANIMATION. Alle Vortragenden erhalten einen kostenlosen Festivalpass.
Einsendeschluss ist der 10. März 2016, detaillierte Informationen zum Call stehen unter: 
http://animafest.hr/en/2016/news/read/apply_for_the_international_animafest_scanner_iii_2016_symposium