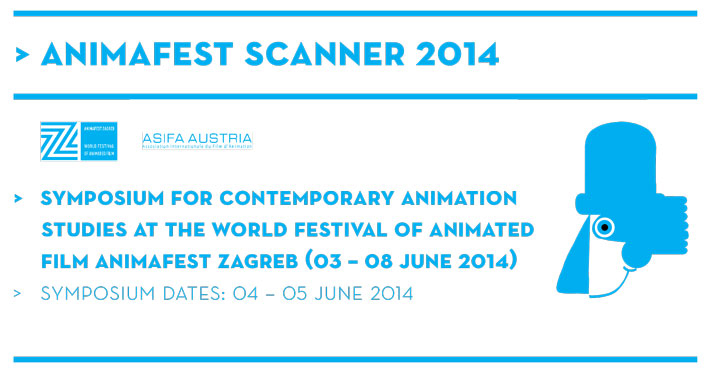 International Symposium Animafest Scanner 2014 is taking place on 4 and 5 June at the Large Hall of Školska knjiga (Masaryk Street 28), Zagreb. This symposium is a new step in Animafest's continuous support of scholarly interest in animated film, evident also from the unique Award for Outstanding Contribution to Animation Studies, launched in 2002. The first winner of this award, the most renowned international animation historian, the author of the seminal Cartoons: One Hundred Years of Cinema Animation and Animafest's old and dear friend Giannalberto Bendazzi will speak at the Animafest Scanner 2014 symposium about the historiography of animated film.
The symposium speakers also include the leading animation studies theorist Paul Wells, whose rich body of work includes the important study Understanding Animation. In Zagreb, Wells will speak about the Mackinnon & Saunders studio, known for the puppet film this year's Animafest theme programme revolves around. Midhat Ajanović-Ajan, Bosnian—Swedish film scientist who acted as the festival's programme director, will also speak about puppet film. Mikhail Gurevich and Nobuaki Doi will offer their take on the works of Yuri Norstein. Scholars from Taiwan, Australia and United Kingdom will discuss expanded animation and current trends in animation studies.
The keynote speaker will be Marcel Jean – the Annecy festival director and this year's winner of the Award for Outstanding Contribution to Animation Studies. His address will focus on the possibilities of better connection between world festivals and animation theories. Instead of a dull academic gathering, Animafest Scanner 2014 will take advantage of the festival atmosphere to share the recent research results through 16 lectures with filmmakers, producers and other protagonists on the art scene, but also with the numerous visitors invited to attend the lectures of these outstanding speakers who know both how to teach and entertain a listener.
Animafest Scanner 2014 is organised in association with ASIFA Austria, with the support of the Austrian Cultural Forum in Zagreb, Faculty of Humanities and Social Sciences of the University of Zagreb, AG Animation Media Studies Association (GfM), Department of Theatre, Film and Media of the University of Vienna and Webster University in Vienna. The symposium will be moderated by Animafest art director Daniel Šuljić and film scientists Franziska Bruckner, Holger Lang, Irena Paulus, Hrvoje Turković and Nikica Gilić.
Historical trends, numerous points of view and approaches, new findings in the growing field of animation studies and interesting speakers – all this will be available at Animafest Scanner 2014, whose primary goal is to create a synergy between theoretical and practical animation discourses, which is why it takes place in the context of screenings, exhibitions and other Animafest's side events.
Animafest Scanner 2014 Program can be found HERE.
(Info-Text taken from: http://www.animafest.hr/en/2014/professionals/animafest_scanner)