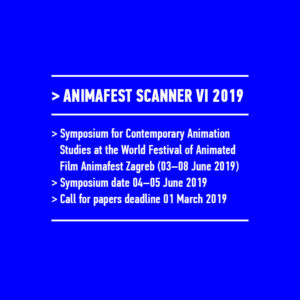 Das World Festival of Animated Films – Animafest Zagreb und ASIFA Austria suchen Beiträge für das internationale Symposium ANIMAFEST SCANNER VI am 4. und 5. Juni 2019 in Zagreb. Diesjährige Keynote-Speakerin ist Jayne Pilling. Die Themen des Symposiums sind:
ANIMATING IN HISTORY
ANIMATION AND FINE ARTS
ANIMATION AND (VIRTUAL) REALITY
ANIMATION AND EDUCATION
ANIMAFEST SCANNER VI wird von der AG Animation unterstützt.
Alle Vortragenden erhalten einen kostenlosen Festivalpass für das World Festival of Animated Film – Animafest Zagreb.
Weitere Informationen unter: http://www.animafest.hr/en/2019/home [externe Website]
Deadline der Einreichungen ist der 1. März 2019.